Categories
Subscribe via RSS
Browse by Date
Three Kings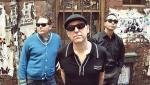 THREE KINGS
+ JACK HOWARD & THE LONG LOST BROTHERS
FRIDAY 31ST JANUARY
FREE ENTRY, 9PM
Heralded as both the "baddest band" in the land and a "Melbourne blues supergroup", Three Kings sound like an old 45 found in the bottom of an abandoned shed. So real you can practically hear the record crackle and the needle pop when they are onstage.
Featuring Ian Collard (Collard Greens and Gravy/ Backsliders) on vocals, harmonica and guitar, Benny Peters (Benny and the flybyniters) on vocals and guitar and Jason Liu Soon (Chris Wilson, The Detonators) on drums.
"No one should have to follow these guys on, no one"- Justin Townes Earl

WEBSITE
JACK HOWARD & THE LONG LOST BROTHERS
Jack Howard was recently described as "one of the great quiet achievers of Australian music". He was an integral member of Hunters and Collectors; and for the last twelve years, he's been independently releasing fine CDs of his own. His latest, The Story So Far, was a comprehensive "best of" compilation plus a Live DVD.
In 2013, he played at the AFL Grand Final with H & C, toured the country with Rodriguez, put together a fantastic "Songs Of Bacharach and David" show; and recorded his outstanding upcoming CD, "Day Of The Dog", with his own band, the mighty Long Lost Brothers.