Categories
Subscribe via RSS
Browse by Date
The Furbelows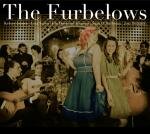 THE FURBELOWS
+ THE SHOTGUN WEDDING
WEDNESDAY 29TH JANUARY
FREE ENTRY
THE FURBELOWS 9:30PM-10:10PM
THE SHOTGUN WEDDING 8:30PM-9:10PM
Two of Melbourne's favourite harmony groups are coming together to perform a special show at The Spotted Mallard! The darlins of trad jazz, The Furbelows will be joined by Melbourne's newest country crooners, The Shotgun Wedding and we'll travel back in time to hear the great traditional numbers of two different genres.
Quenching Melbourne's desperate need for a 1930's party band, The Furbelows formed in early 2012 during of a bout of casual jams and campfire sessions. A combination of three-part close-harmony vocals and the hot swinging acoustic guitars of wartime Paris, they quickly developed a strong following based on their joyful, exuberant, and rollicking live performances.
With harmonies, pedal steel, plenty of guitars and a tribute to the great country songs from the last seventy years, The Shotgun Wedding are Melbourne's newest country band. Channeling Gram, Hank, Gillian, Willie, Emmylou, Merle and a little bit of Dolly, The Shotgun Wedding are Brooke Russell, Loni Thomson, Amarina Waters, Ayleen O'Hanlon, Ben Franz and Grant Taylor, occasionally joined by special country guests when we're lucky!