Categories
Subscribe via RSS
Browse by Date
FLAP! Australia Day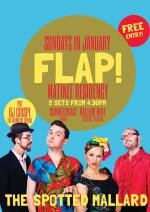 FLAP! (residency) AUSTRALIA DAY SHOW
+ THE TWOKS
SUNDAY 26TH JANUARY
FREE ENTRY
FLAP! 5:40PM
THE TWOKS 4:30PM
After a long year away from Melbourne, Flap! return to perform a series of FREE Sunday afternoon shows at The Spotted Mallard. They'll debuting new material every week from December 29th till the end of January. It's just their way of saying "thanks melbourne, and sorry for being away so long, we really do love you."
From Melbourne, Australia, Flap! play original music that is both old and new, inspired by the entire human diaspora. Influences from 1920's jazz, Gypsy brass, English Folk and Trinidadian Calypso can be heard peeping through their antipodean veneer.

From major festivals, to grotty pubs, Flap! have audiences smiling and dancing wherever and whenever they play.

Formed during an informal jam at the 2007 Port Fairy Folk Festival (Victoria, Australia) and playing their first gig at the Woodstock Cafe at Christiania, Copenhagen that same year, Flap! have since become Festival favourites all across Australia. Performing at the 2008 Port Fairy Folk Festival, and the 2009 Apollo Bay Festival where they wowed the crowds, and got them off their fold-up chairs and on their feet dancing, The Tarerer Festival, The Melbourne International Jazz Festival, The Melbourne International Comedy Festival, The Rainbow Serpent Festival, The Brunswick Music Festival, The Thredbo Jazz Festival, Falls Festival, The Woodford Folk Festival, The Adelaide Cabaret Festival, The National Folk Festival, The Tasmanian Circus Festival and heaps of other gigs to happy punters all over Melbourne and Australia.