Categories
Subscribe via RSS
Browse by Date
Brunswick Honky Tonk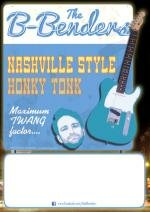 "BRUNSWICK HONKY TONK" W/ THE B-BENDERS
THURSDAY 30TH JANUARY
FREE ENTRY
THE B-BENDERS 8:30PM
The B-Benders formed spontaneously after Julian Abrahams (Mustered Courage) brought a green B-Bender Telecaster home after an intimate romance with the Nashville Honky-Tonk circuit.
Prepare to feast upon high paced B-bender telecaster chicken pickin' over bluesy originals and country music classics. Fuelled by a powerhouse rhythm section and doused in flames by a wildfire of country fiddles and freight train paced piano.
The B-Benders will set the audience on fire and burn the house to the ground... maximum twang... maximum tempo.