Categories
Subscribe via RSS
Browse by Date
LET'S GET TRIVICAL!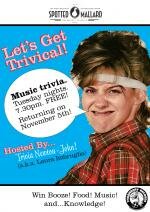 Let's Get Trivical!

Tuesday 28th January
FREE ENTRY
Come! Be fascinated by the wonderful world of music. Win booze. Win meals.
You might win music too. I'll get back to you on that.

But everyone will win one thing. You know what that prize is? KNOWLEDGE.
You will win music knowledge. It will serve you well.
It's not "Let's Get Quizzical". It's not "Let's Get Trivial". They would be obvious choices. It's "Let's Get Trivical" which is infinitely better than both.
"Like" their facebook page to be kept in the loop:
https://www.facebook.com/LetsGetTrivical
Follow 'em on twitter too!